MIDAS' solution
Real Estate Fund
Our Real Estate Funds' core strategy is to invest at income producing properties in key domestic and international markets and structuring long-term and stable real property based portfolio.

Since the establishment of Real Estate Investment Division in 2006, we have managed assets around USD 800 million, and amid the global financial recession and mass vacancy crisis in central business districts, our team have taken rigorous approach to develop from forward purchase development projects to stable and sustainable investment asset achieving the performance and building the platform of real estate fund management services.

Our values are to provide sustainable cash distributions to investors and prudently managing distributions over time by mitigating all anticipated and unpredictable risks, pioneer in seeking class A opportunities for our investors by local level research and implementation of hands-on management strategy.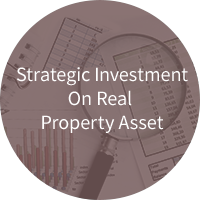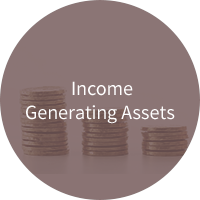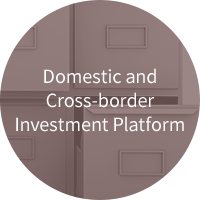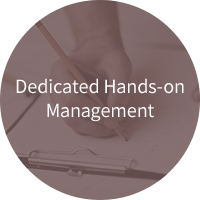 Investment Target and Strategy
Target
Deliver superior returns and dividends above the market yield
to investors within the anticipated investment risks
Investment Philosophy
Based on the synergy generated by investment experts through rigorous risk management and moral compliance, we concentrate on building the competence on consistent advancement of asset management.
Investment
Approach
투자지 맞춤형

Deliver compelling and investor-specific investment solution in transparent and open market
투자 PROCESS

Proven top down and elaborate research driven investment process
역할수행

Exclusive and active management to secure growing cash flow and sustainable returns
RISK MANAGEMENT

Ad-hoc and periodic reporting and communication system with investors
매각전략 실행

Specific implementation of profit maximization disposal strategy
Investment Strategy
Our investment fundamentals are focused on
with consideration of Fund and Real Estate cycle
Investments in value-oriented assets

Active purchase on real property asset that
meets to client-specific investment objectives
Active Management

Active management to maximize
long term net income and market value
Capital Management

Maximizing the investment effect through
capital management strategy within the Fund period
Organization
Our team is made up of domestic and overseas organization to directly manage long term real estate investment and portfolio management. Starting from 2006, we have been the groundbreaker in overseas real estate investment while the overseas professionals have been proactively involved from off-plan developments to fund management with local-on-the-ground presence.

We collaborate with top domestic and international real estate companies and organizations and developed long term relationship for strong deal-sourcing, top down investment research, due diligence and securing finance to seek opportunities and create value added returns.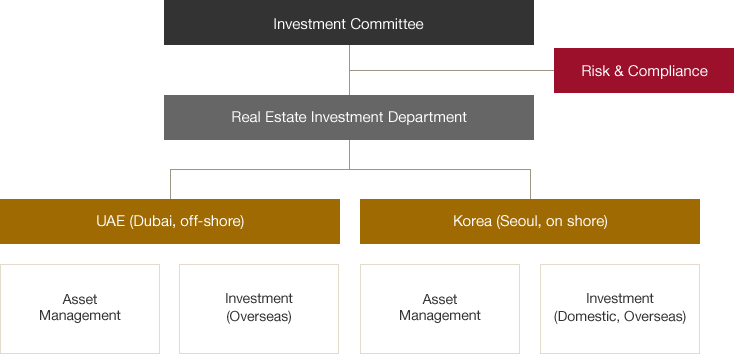 [투자심의 위원회]
[Risk & Compliance]
[부동산운용파트]
[UAE (두바이, off-shore)] : 자산관리, 부동산 투자(해외)
[한국 (Seoul, on-shore)] : 자산관리, 부동산 투자(국내,해외)
Portfolio
Our portfolio consists of prime grade A office buildings at core locations in domestic and overseas market where we have been proactively provided our expertise and knowledge in direct investment, development, asset management and disposal. Especially with Midas Private Equity Real Estate Fund 3, which purchased a prime grade A asset in central business district of Seoul, Korea, has performed exceptional value return with 11% annual return and 1.56x fund equity multiples. With such asset management experience and competitive investment insight, we are committed to deliver compelling solutions and expanding investment portfolio (office, retail, hotel and logistics) and add value for our clients and partners.